Intymen Fill-It Jockstrap - Black


Intymen Fill-It Jockstrap



Black
- 92% Cotton / 8% Spandex.

The Colombians are sexing it up yet again with this hot new jock featuring a pouch designed to maximize your bulge featuring an inner panel with a built in C-ring (to stick your boys through) ands rests flush against your body. The outer pouch cradles your boys and is open from the sides and attached minimally at the bottom for a wonderful free-swinging feeling.

While very similar to the Joe Snyder Launch Jock, this one is made from a very soft Cotton and has a roomier pouch.

This Fill-it jock has a super-soft black 1 and 1/4 inch waistband with white Intymen logo woven into the elastic plus white 1 and 1/8 inch soft elastic leg straps. Both the inner and outer black panels of the pouch have contrasting white piping for an added touch of style.


15.95 USD
now only
$9.57 USD

* this item is not eligible for further discount
YOU MAY ALSO LIKE THESE ITEMS: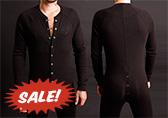 price:
$119.00
$101.15 USD