Baskit (De)Luxe Jockbrief - Black


Baskit (De)Luxe Jockbrief



Black
- 95% Modal 5% Spandex

The name says it all: The (De)Luxe Jockbrief is made with Modal, making it extraordinarily soft to the touch with a hint of Spandex to ensure it fits your form like a glove, no matter how often or how long you wear it and we're betting that will be often and lots!

It's the best of both worlds - the front is a brief but the fabric wraps around the back and becomes a jock in a very cool and very stylish way; framing your ass to perfection.

The front pouch is super soft in solid black and naturally contoured. Double piping; outside black and inside a contrasting green that edges the leg openings and cut-out in the back - giving the jockbrief a sporty, almost high tech styling.

Above the pouch is a striking one and half inch soft comfort black elastic waistband with contrasting green Baskit logo and racing stripe on only one side.

The (de)Luxe is possibly the softest, most comfortable and luxurious jockbrief ever designed. It's smooth, sleek, totally affordable and it looks great too.

Be sure to check out the (De)Luxe Jockstrap as well.


YOU MAY ALSO LIKE THESE ITEMS: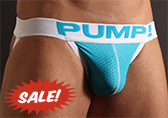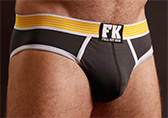 color:
Charcoal and White