PPU Out Front Jock - White






PPU doesn't have a name for this totally outrageous and totally hot jockstrap so we're christening it the Out Front Jock for the way you boys are put out there for all to see.

This display jock is comprised of a 1.5 inch wide waistband with a unique leg strap design: There's actually two 3/4 inch straps both attached to the waistband at the same spot on both the left and right sides of the waistband. You step into the cross formed by the leg straps so essentially, each strap travels from the front of each leg and runs down under your crotch and then goes around to the opposite ass cheek.

If that weren't cool enough, a handy thin cock strap is suspended from the front of the waistband. This goes around your meat and two veg to put them on display.

This particular version has a solid black waistband with white ppu logo and solid black leg straps.

If you love showing off, then you're going to love the Out Front Jock.


YOU MAY ALSO LIKE THESE ITEMS: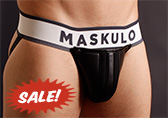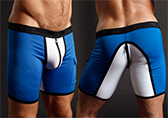 color:
Royal-blue and White