Male Power Neon Panel Jockstrap - Neon Yellow and Orange


Male Power Neon Panel Jockstrap



Neon Yellow and Orange
- 65% Polyester 35% Rayon

(warning: the color in our photos didn't come out accurately. The colors of these jockstraps are true neon yellow and neon orange)

If you're looking to get noticed, whether it's at a construction site or at a club with the black light shining, then this jock is going to do the trick. If wearing a jock out in public doesn't draw attention, the fact that it's made with alternating panels of neon yellow and orange will.

Made with a super soft, feels like brushed cotton, Polyester and Rayon blend fabric with a generous cut pouch for added comfort. Unlike most jockstraps with their separate elastic waistband, the fabric of this jock actually wraps around the elastic for a unique stylish effect.

Finally, quarter inch comfort leg straps complete the jockstrap.



15.95 USD
now only
$12.76 USD

* this item is not eligible for further discount
YOU MAY ALSO LIKE THESE ITEMS: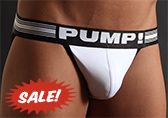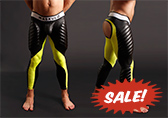 price:
$141.00
$84.60 USD