Activeman Elite Jockstrap - Yellow


Activeman Elite Jockstrap



Yellow
- 95% Cotton, 5% Elastane

Make room in your top jock drawer for your new favorite. Activeman set out to reinvent the fashion jock with the Elite creating one of the most stylish, comfortable and affordable jocks out there.

Here's the details:

The Elite jock has a contoured yellow pouch edged in black piping consisting of mostly cotton with a touch of Elastane to maintain shape, comfort and to provide a perfect fit.

Complimentary to the pouch, a 1 inch yellow plushed elastic travels from the top of the pouch, parallel to the waistband and ends up traveling to the back and becoming the leg straps of the jock. To add an extra dash of style, those straps have a centered contrasting black stripe running through them.

With it's luxury feel and stunning looks, the Elite will make work a bit more bearable and play a whole lot more fun.


14.95 USD
now only
$7.48 USD

* this item is not eligible for further discount


YOU MAY ALSO LIKE THESE ITEMS: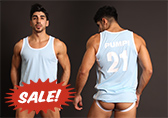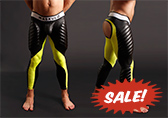 price:
$141.00
$91.65 USD