Activeman Lace-up Jockstrap - Red

Activeman Lace-up Jockstrap
Color:

Red


Product#:

16115


Manufacturer#:

A4710


Material:

96% Polyester 4% Spandex

A sexy take on a traditional swimmer sports jock.

Take a traditional swimmer jock and split the pouch down the middle, reinforce the split, add eyelets and tie them up with a string and finish the ends with metal and you have a sports jock with an exciting twist. Either tie them up all the way or loosen them to add a little excitement to your life.

Includes a moisture wicking woven pouch and one inch plush waistband and leg straps.


SORRY, THIS ITEM IS OUT OF STOCK
YOU MAY ALSO LIKE THESE ITEMS: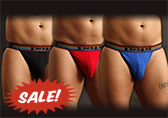 color:
pride (black/red/blue)