Nasty Pig Sweat Jockstrap - Grey

Nasty Pig Sweat Jockstrap
Color:

Grey


Product#:

07181


Manufacturer#:

5681


Material:

62% Nylon 27% Elastane 11% Polyester

This is Nasty Pig's first take on the classic swimmer sports jockstrap. And yes, the waistband is a tiny bit wider but we're pretty sure that's only so their iconic pig logo that sits front and center on the waistband won't be missed.

The pouch is made of a custom-blend mesh fabric that's softer on your dick than your average athletic supporter. Nasty Pig gave it some stretch to enhance what you're packing. And according to them, the narrow waistband naturally elongates your torso. Who are we to argue? All we know is that we love it and think you will too.

Traditionally worn for sports or to the gym but because of the comfort, you can wear it anywere, from the office to the orgy. It looks and feels great, especially after some breaking in, and smells better with every use!

$27.00 USD
now only $16.20 USD
* this item is not eligible for further discount
SORRY, THIS ITEM IS OUT OF STOCK

YOU MAY ALSO LIKE THESE ITEMS: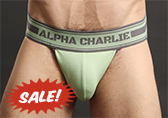 color:
Mint-green and Grey