Nasty Pig Long Johns - White

Color:

White


Product#:

07110


Manufacturer#:

5520


Material:

95% Cotton 5% Spandex

Traditionally, the long john was made for the cold to wear underneath your outer clothes to keep you warm and although Nasty Pig's long johns are perfect to do just that, they are so freak'n cool, you may just want to wear them by themselves as truly hip outerwear.

Here's the details:
These long johns are constructed of Nasty Pig's standard extra-soft white cotton/spandex rib and finished at the ankles with a slightly heavier layer of ribbed fabric. The fly doesn't open (non-functional), but the custom Nasty Pig snaps will still grab all the right attention.

Finally, a 1 1/4 inch plushed grey elastic waistband with the fetish inspiring Nasty Pig logo we all love woven and repeated throughout.

Style Tip: If you're wearing them on their own as outerwear, don't be afraid to hike up one or both legs for some street-cred hipster cool.
$39.00 USD
now only $23.40 USD
* this item is not eligible for further discount
SORRY, THIS ITEM IS OUT OF STOCK
YOU MAY ALSO LIKE THESE ITEMS: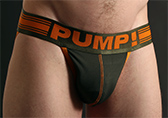 color:
Military-green and Orange