American Jock Long Jock N' Short - Black


American Jock Long Jock N' Short



Black
- Shorts: 100% Polyester. Jock: 90% Cotton, 10% Lycra

Easy on, easy off! This is a longer version of American Jock's best selling all-in-one gym short and jockstrap combo that's ideal for the efficient man.

On the outside is a sexy black gym short made with a slight waffle textured moisture wicking polyester fabric complete with inside drawstring. A full 17 1/2 inch side seam. Unlike the shorter version of the Jock N' Short, this long version includes two roomy inside side pockets.

Stitched with a contrasting red thread along the center, side and bottom seams add a touch of heightened style.

Inside the short is a built in white jockstrap with doubled walled pouch and 1 inch wide leg straps for comfort and support..

Click here to check out the shorter versions of the Jock N' Short.


34.00 USD
now only
$17.00 USD

* this item is not eligible for further discount
YOU MAY ALSO LIKE THESE ITEMS: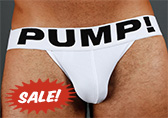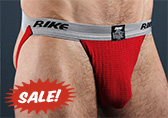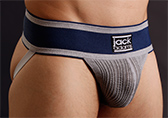 color:
Grey and Navy-blue