Locker Gear Leatherette Jockstrap - Blue

Locker Gear Leatherette Jockstrap
Color:

Blue


Product#:

02212


Manufacturer#:

LK0121


Material:

Nylon, Elastane, Polyester, Cotton

Often, Sports Fetish is simply a mindset that takes place in the bedroom or backroom with your jockstrap on. With Locker Gear's new Jockstraps the visual hits home what sports fetish is throwing subtlety out the door.

The Locker Gear Leatherette Jockstrap waistband screams gym but the pouch screams Folsom. The masculine ultra-wide waistband has contrasting traditional sports jock micro-striping while the pouch has leather-look panels with a partially see-through mesh panel down the center. Contrasting stitching between panels and black piping with contrasting color hits a stylish home run.

Along with the wide waistband, the leg straps are also nice and thick for a bit of butt lifting action.

Be sure to pick up the Locker Gear Keep Them On Socks to complete the look.
$27.00 USD
now only $13.50 USD
* this item is not eligible for further discount
SORRY, THIS ITEM IS OUT OF STOCK
YOU MAY ALSO LIKE THESE ITEMS: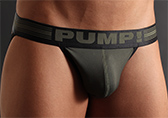 color:
Military-green and Black