BECOME A JOCKSTRAP CENTRAL AFFILIATE - EARN MONEY!
If you're a webmaster, here's a way of getting in on the action. We all know bandwidth costs money, and websites use bandwidth, so why not help pay the costs of your bandwidth or even make some extra spending money. In fact, if you spend a little time and effort you can make quite a bit promoting JockstrapCentral.
It's quite simple actually. You place banners and links on your site with a special linking code we give you and we offer you a percentage of any sales your traffic (the people that you send over) ends up buying from JockstrapCentral
The industry standard is 7% so we're going to up that to 8%. While that may not seem like a lot to people used to the adult markets, when you consider the mark up on clothing, it actually is quite generous but even more importantly the following gives our program the advantage over the others: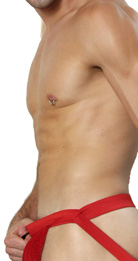 Return days simply refer to how long a cookie lasts on a visitor's computer. Most affiliate program, if they do have a return day system in place at all, give you less than a week. If you send a customer over to our competitors site and that customer bookmarks the page but waits a week to make a purchase, you won't get credit for that sale. Jockstrap Central offers all affiliates a 700 return day policy, this not only includes bookmarked traffic, but repeat sales as well.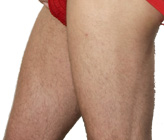 Sure, we offer affiliates loads of banners in most standard sizes (need a custom size, just ask), but we also provide regular affiliate newsletters announcing promotions and events to promote (like our annual Show Us Your Jockstrap contest), premade blog graphics and pre-written promotional copy if you don't want to write your own. But that's not all:
EXCLUSIVE HI RESOLUTION PHOTOSETS
If you're familiar with Jockstrap Central, then we're sure you're aware of our original models and our unique artistic and sexy take on product photography. As well, we shoot lots of behind the scenes and candid extra shots. These photos make for fantastic content for you blog and are probably a better marketing vehicle to drive sales than traditional banners.
We can either send you checks or pay you via PayPal - the choice is yours. If you want us to pay you via PayPal, please
let us know
. There is a minimum payment amount of $50.00 as the bank service charges make it pointless to write checks for anything less than that. As soon as you reach $50, we either issue you a check in US dollars, or pay you via Paypal.
It's easy. Simply read our
Terms and Conditions
and if you agree to them click the link below and apply to become an affiliate. The rules are fairly basic. Once you've signed up to the program and we've sent you an acceptance email, head to our
banner page
and
content page
and place the banner or graphic on your website with the given linking code or download a photoset post it on your blog linked using your linking code to Jockstrap Central and you're in business. It doesn't have to be anymore complicated than that, but with most things in life, the more you put into it, the more you'll get back.