Red
- 95% Cotton, 5% Spandex

(They're back for 2014! Keep in mind, these are seasonal items and we sold out quickly last year leaving customers out in the cold.)

It doesn't get more masculine than this. Union suits conjure up images of the working man. Nasty Pig's union suite respects the aesthetics but improves on the union suit in every way.

Instead of the traditional flannel, Nasty Pig uses their signature super-soft, top quality lightly ribbed spandex/cotton underwear fabric. Here's the hottest part: the snap closure that runs down the chest also run all the way under the crotch and around to the back - to just above the butt - is an innovative back closure solution, way sexier than the traditional ones. Need we mention the snap closure, both front and back makes for easy exit and entry. It's finished with a tone on tone Nasty Pig logo on the left chest.

Wear them everywhere you want: under your jeans when you hit the streets, paired with a sick set of high tops, or be truly unique and wear them as outerwear before it's gets too cold or wear them with nothing at all next to a roaring fire on Christmas morning.



SIZING ADVISORY!


The sizing in the sizing box below is Nasty Pig's recommended sizing. Although Nasty Pig says xlarge is up to a 36" waist, we feel they could easily accommodate a larger waist size, especially as they stretch comfortably.

Here's something to consider: our model Adam is 5'11" with a 30" waist and we had a small on him for the photo shoot. It's nice and tight and fitted. He could have just as easily worn a medium and look good.

Adrian, one of the owners of Jockstrap Central is 6 feet tall with a 36" waist and wears a size large. He tried on the xlarge and while this was the recommended fit, we feel it would easily accommodate a couple of extra inches around the waist and a couple extra inches height-wise.





YOU MAY ALSO LIKE THESE ITEMS: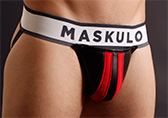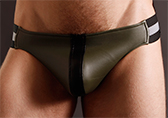 color:
Army-green with Black